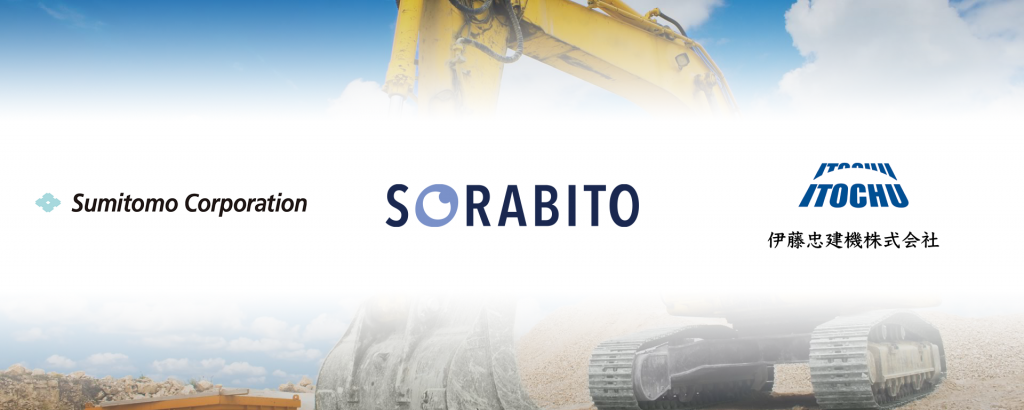 SORABITO, a platform operator for working machines, secures approximately 900 million yen from Sumitomo Corporation and Itochu Construction Machinery Co., Ltd. to accelerate development/business development to aim for being the world's No. 1 construction machinery platform.
SORABITO Inc. (Representative: Takayuki Aoki, Headquarters: Chuo-Ku, Tokyo, hereinafter referred to as "SORABITO") was established on May 12, 2014 as a start-up company that resolves issues in the working machine industry. Since the establishment, with the support of construction machinery rental companies nationwide, the company has been providing efficient/effective options for disposing and procuring machinery such as a regular bidding price-posting type market called, "ALLSTOCKER Market", a regularly-held bid-up type internet auction called, "ALLSTOCKER Auction", and competitive bidding services that consolidate offers by buyers worldwide and present purchase prices. Additionally, the company has been providing safe/transparent transaction opportunities to construction companies and machinery traders in and outside of Japan through the company's unique inspection services, transport services and multi-lingual customer support. Through these initiatives, the ratio of the company's overseas transactions with Asia (China, Taiwan, Vietnam, etc.) has increased to approximately 50%.
On the other hand, the environment for today's construction machinery industry requires manpower reduction, information-oriented construction and IoT/data utilization and such needs are growing rapidly. Not only the commonization of smartphones but also cloud-based management/services for productivity improvement, the utilization of AI and the use and sharing of 5G are definitely becoming a trend in this industry.
Due to such trend, for the purpose of solving machine owners' various issues by using the latest IT technology, SORABITO has been working to further polish its existing ALLSTOCKER services, make it popular and release a new service that is scheduled for this summer for building a "Construct Tomorrow" platform, which has been a company mission since its establishment. In order to make it happen, the company came to the conclusion that it needs knowledge and network in the industry and a partner who has a robust financial foundation.
Sumitomo Corporation, which has a globally-operated construction machinery sales service and construction machinery rental company with the largest network and business size in the trading industry, making a capital participation along with Itochu Construction Machinery Co. Ltd., and Itochu Construction Machinery Co., Ltd., which has been a partner with SORABITO for a year and a half, have a large number of offices/investments in and outside of Japan in the construction machinery and its relating industries not to mention extensive experiences and connection in the industry. The company believes that the partnership with these two companies will be a foundation for building the world's No.1 construction machinery platform.
■ Summary of Sumitomo Corporation
- Corporate headquarters: OTEMACHI PLACE EAST TOWER 3-2 Otemachi 2-Chome, Chiyoda-ku, Tokyo
- Established on: December 24, 1919
- Company representative: Masayuki Hyodo, Representative Director, President and CEO
- Business:
With its global network and based on trust from companies in various industries and from consumers, Sumitomo Corporation engages in multifaceted business activities by making the most of its Integrated Corporate Strength. These business activities include sales of a variety of products and services, import and export, trilateral trade, and domestic and international business investment.
- Company website: https://www.sumitomocorp.com/
■ Summary of Itochu Construction Machinery Co., Ltd.
- Corporate headquarters: PMO Nihonbashi-Muromachi BLDG, 1-13-7 Nihonbashi-Muromachi, Chuo-ku, Tokyo
- Established on: April 1, 1969
- Company representative: Shigeki Yokoyama, CEO
- Business:
1. Sales/rental of construction site office equipment such as construction machinery, transporting machines, pollution-control equipment, temporary equipment for construction, etc.
2. Machinery and equipment installation work and construction work.
- Company website: https://www.icm.co.jp/
■ Summary of SORABITO Inc.
- Corporate headquarters: 1-9-2 Nihonbashi-Kayabacho, Chuo-ku, Tokyo
- Established on: May 12, 2014
- Company representative: Takayuki Aoki, CEO
- Business: Planning/developing/operating of ALLSTOCKER, an international online exchange for working machines.
- Company website: https://www.sorabito.com/
- ALLSTOCKER: https://allstocker.com/
■ For media contact about this press release:
SORABITO Inc.
Contact person: Ryosuke Nakayama, Director and Corporate Division Manager
Email: press@sorabito.com